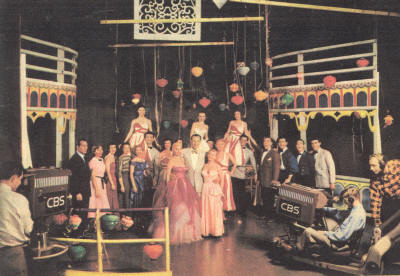 The Vaughn Monroe Show
Backstage. The word suggests a special privilege as in an invitation to meet a performer personally, aside from the show staged for public viewing. This is exactly the feeling that we want to create with the Backstage Pages, which give a more personal glimpse into the life and career of Vaughn Monroe.
We have arranged a wide assortment of photographs, quotes, interviews, articles and memorabilia to pique your interest. If you're already a fan, happy browsing. If you are just discovering the amazing talent of Mr. Monroe, it is our sincere hope that you come away with a deeper appreciation of his contribution to the American pop culture of the 1940s and 50s.
---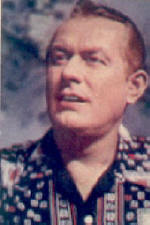 Vaughn Monroe
Still Racing with the Moon

Sharing the recollections and life events of our members and their favorite maestro.
What's New
New! Spotlight Stage "Annie Get Your Gun" is back!! 8/8/14
Journal "Vaughn's New Hampshire Hideaway" by Richard Longtin 7/6/14
Tribute by E. Hendrickson, MD submitted in May 2009 now included in Tributes section. 11/22/13
Sheet Music is back! 11/2/13
What used to be the Sustaining Member Pages are now the Backstage Pages. 11/2/13
Quote
The last time I saw Vaughn was a most unlikely accidental meeting.
Walking up Michigan Ave. at 7 a.m. toward the Chicago-Sheraton, I noticed a disreputable-looking character leaning against the hotel's canopy pole. As I got closer I thought the figure looked familiar. Then I was sure I knew the "bum."
A familiar voice boomed, "Bernie Woods--what the hell are you doing on Michigan Avenue at 7 a.m. on a Saturday morning?"
The voice was unmistakable behind the two-day beard. The beat-up old cap and well-worn jacket were Vaughn Monroe's flying clothes. He and his wife Marian were on the way to a Las Vegas booking.
When the Music Stopped - The Big Band Era Remembered by Bernie Woods, 1994

(with photographs)