Photograph courtesy of Millie Lucker.
1600 Vine
Vaughn Monroe, Singer, orchestra leader
Born Oct 7, 1911, in Akron, OH.
Spotlights Known as "the baritone with muscles," he was one of the most romantic looking band leaders of the swing era. He had a strong body, sculptured face and great smile. So dynamic a personality, the band could have succeeded solely on his sex appeal to the ladies. As radio host, he had a huge hit with "Camel Caravan," a musical variety show (1945- early '50s). He recorded prosperously on Victor/RCA with such hits as "My Devotion."
TV Fans adored "The Vaughn Monroe Show." Their favorite tunes were "There, I've Said It Again," "Racing with the Moon," and "Ghost Riders in the Sky." Died: 1973.
Source: page 289, The Hollywood Walk of Fame. Photographs are courtesy of Millie Lucker.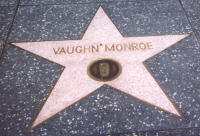 Photograph courtesy of Millie Lucker.
1755 Vine
Vaughn Monroe's second star for his radio work.